7 Reasons to Retire in Arizona
Posted by Joe Sisneros on Thursday, August 25, 2022 at 4:53 PM
By Joe Sisneros / August 25, 2022
Comment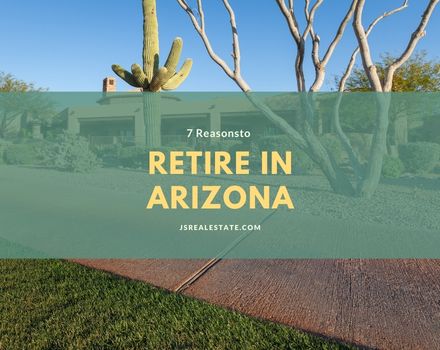 Arizona has been a popular place to retire for decades, and the love for the state is only growing as more amenities and beautiful retirement housing communities are developed.
Are you considering where you should retire? Check out these 7 reasons to retire in Arizona.
1. Perfect Weather All Year Long
Arizona is known for it's warm temps all year long. Retirees famously choose Arizona for its comfortable winters, where lows rarely get below the 60s. The summers, though quite hot and reaching triple digit temps most days, are a dry heat that feels quite bearable to most residents. Golfing, tennis, and other popular outdoor hobbies are totally accessible year round in Arizona's warm climate.
2. Tax-Friendly for Retirees
Let's face it: your bottom line really matters when you retire. The Arizona tax code is favorable to retirees, with no tax to social security income, gifts, estate sales, or inheritances. Taxable income in Arizona is taxed at a much lower rate than the national average. Every personal situation will vary, but talk with your accountant to see how Arizona may be one of the most tax-friendly locations for your retirement income.
3. World-Renowned Golf Courses
If you are one of the many people who have dreamt of spending your retirement golfing as much as you'd like, Arizona is an obvious choice. With gorgeous courses you can access all year long, including many world-renowned golf clubs in Scottsdale, this is a golfer's paradise.
4. Access to Great Shopping
Do you like to shop? You will find everything from global designers to small boutiques, and massive outdoor shopping malls to exclusive pop-up shops. Scottsdale is particularly popular for retirees who love to shop, with a variety of malls including high end stores, outlets for a great bargain, and exclusive small businesses.
5. Top Notch Healthcare
As you consider where to settle down for the twilight years, access to good healthcare is an important factor. In Phoenix, Scottsdale, Tempe, and the surrounding areas, you will find top notch healthcare to meet every need. Mesa has been ranked as one of the best places to retire for your health, and one of the Mayo Clinic locations is in Arizona, too.
6. Beautiful Parks All Around
It is hard to exaggerate the natural beauty of the parks all throughout Arizona. Of course the Grand Canyon is a must see, as well as Sedona and Red Rocks State Park. Explore the natural beauty of Arizona, with many breathtaking hikes and picnic areas near enough for a day trip from any of the major cities in Arizona.
7. An Allergy-Friendly Climate
Many people don't realize how ideal Arizona is for those with seasonal allergies. The desert climate is inhospitable to many of the major allergens that plague so many, meaning if you have seasonal allergies wherever you live now you likely would not if you lived in Arizona. As you think ahead to retirement, freedom from that annoying allergic reaction could be life changing. With virtually zero seasonal allergies to speak of, Arizona just might feel like paradise.
To learn more about finding your ideal home for retirement, contact us any time!